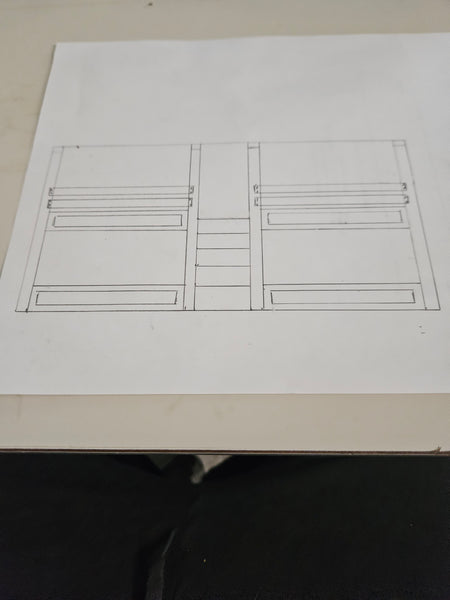 Carrie's bunk room (Receipt)
This to be a twin over twin END to END quad bunk set.  This is to have dimensional lumber for the base framework with some hardwood highlights on the front face. 
Stairwell between the bunks with "X"  safety rails to be solid and extend from the stairwell to each side.

Shelf cubbies in the top and bottom ends (4) total
Over all footprint 118 7/8 x 44.  This piece is being made specifically for adults and will be constructed with added screws for safety/longevity. 
White is the color of the bed unless customer states otherwise.  Customer must supply their own mattresses.
You're going to love the ease of setup as your new set of Adult Quad Bunk Beds are fully assembled for fit and finish on our end prior to installation. 
Made with dimensional lumber as well as furniture grade plywood and poplar
Theses are very durable and very well made.  Please see the Quad Bunk Builds HERE to get a really good idea for construction and installation process. This will be a sure-fire built in look in your room.  They are made to  your basic measurements so it will not only fit but look great. 
You must supply your own mattress. Painted white.

The price includes all these features:
Twin over twin bottoms as shown in the finished drawing
The bottom of the top bunk completely enclosed
Bunkie covers
Safety Rails that are "X" style, Look at other Optional rails

 

HERE.
Soft touch furniture grade Acrylic Behr paint
Installation included
 Optional Equipment 
Parsons trim package $560 so top skirts match bottoms
Beam facia 4 x 4  that terminates just above the top safety rails with caps.
Shelf cubbies in each bunk area
X safety rails
caps on post beams.
To be installed before the new year.
The total for the new custom bunks are $8900
Customer paid $4000 with a check
Balance due at installation is $4900